Välkommen till DistFM – 100% ROCK!
Vi ger dig världens bästa rockblandning dygnet runt, eller Rock Between Heaven and Hell som vi kallar det.
Med en låtskatt på ca. 18.000 låtar så behöver du inte heller tröttna, utan kan lyssna hela dagen.
Pop-Up player: LYSSNA NU – KLICKA HÄR!
Vi uppdaterar vår Heavy rotation med jämna mellanrum med ny fräsch musik. Klassiska band blandas med unga hungriga, oftast svenska band som inte hörs någon annanstans.
Du vet väl att du kan välja kvalité på vår stream genom att klicka på de tre strecken nere till vänster på webbspelaren!
Observera att det nu kan ta några sekunder innan streamen startar då vi gått över till IceCast2 för stabilare stream!
Lyssna här på hemsidan genom att klicka på runda loggan längst ner på sidan, eller lyssna i mobilen via TuneIn Radio's appar till iOS och android eller Radio.se
Vill du hellre ladda ner filer för egen mediaspelare, så finns filerna här:
DistFM fil för VLC
DistFM fil för Windows Mediaplayer
DistFM fil för Real Player
DistFM fil för Quicktime

Eller denna om du sitter bakom en brandvägg på t.ex jobbet (behind firewall):
DistFM Web Proxy
Vill du lyssna på tidigare sända program, så hittar du dom nu på AFTER-CASTS.
Letar du efter en speciell låt som vi har spelat, då hittar du vår playlist här: Playlist
/DistFM Crew
NY UPPDATERAD HEAVY ROTATION 2023-06-28
Klicka på Facebook-inlägget för att läsa hela listan på nya låtar!

DistFM-app för Android!
Ladda ner vår officiella Android-app här: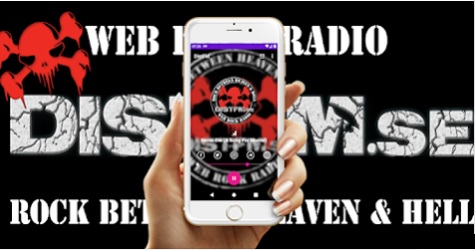 Ladda ner vår app för Android (2020)
(tack till Fredrik Lindblom på Radioplay för hjälpen)
/DistFM Crew
Sungen – Rockar med DistFM!!
Beställ våra snygga och coola t-shirts, girlies och hoodies nu!
Beställ genom att trycka på köpknappen längre ner!
T-shirt: 149 kr plus frakt (stl. S-XXL) OBS! L OCH XL ÄR SLUT! FÅTAL KVAR AV XXL!
Girlie: 149 kr plus frakt (stl. S-L) (OBS, SMÅ STORLEKAR! L är snarare M, osv.)
Hoodie: 490 kr plus frakt (endast stl. M kvar!) VÄLDIGT LIMITERAD UPPLAGA, FÅTAL EX KVAR!
Frakt: 39:- inom Sverige för 1-2 t-shirts/girlie. 69:- för hoodie och för 3 eller fler t-shirts/girlie.
Vid beställningsfrågor kontakta madde@distfm.se
Now you can order our cool t-shirts, girlies and hoodies. Just press the "Köp nu" (buy now) button.
T-shirt: €15 / US $16 plus shipping (depending on country) (size Small to XX-Large) LARGE AND XL ARE SOLD OUT! XXL – ONLY A FEW LEFT!
Girlie: €15 / US $16 plus shipping (depending on country) (size Small to Large) (NOTE, SMALL SIZES! Large is more like Medium and so on…)
Hoodie: €48 / US $54 plus shipping (depending on country). Only size Medium left, VERY LIMITED EDITION!!
Questions? E-mail madde@distfm.se
/DistFM Crew
Stöd oss / Support us via PayPal:
Sponsorer:
4Sign Helsingborg sponsrar DistFM med trycksaker.
Läs mer på deras hemsida genom att klicka på bilden nedan.
Samarbetspartners:

Musiken på denna Internettjänst tillgängliggörs med tillstånd av STIM som innehas av föreningen DistFM enligt gällande lagstadga av upphovsskyddat material.